Roasted Butternut Squash and Whole Wheat Penne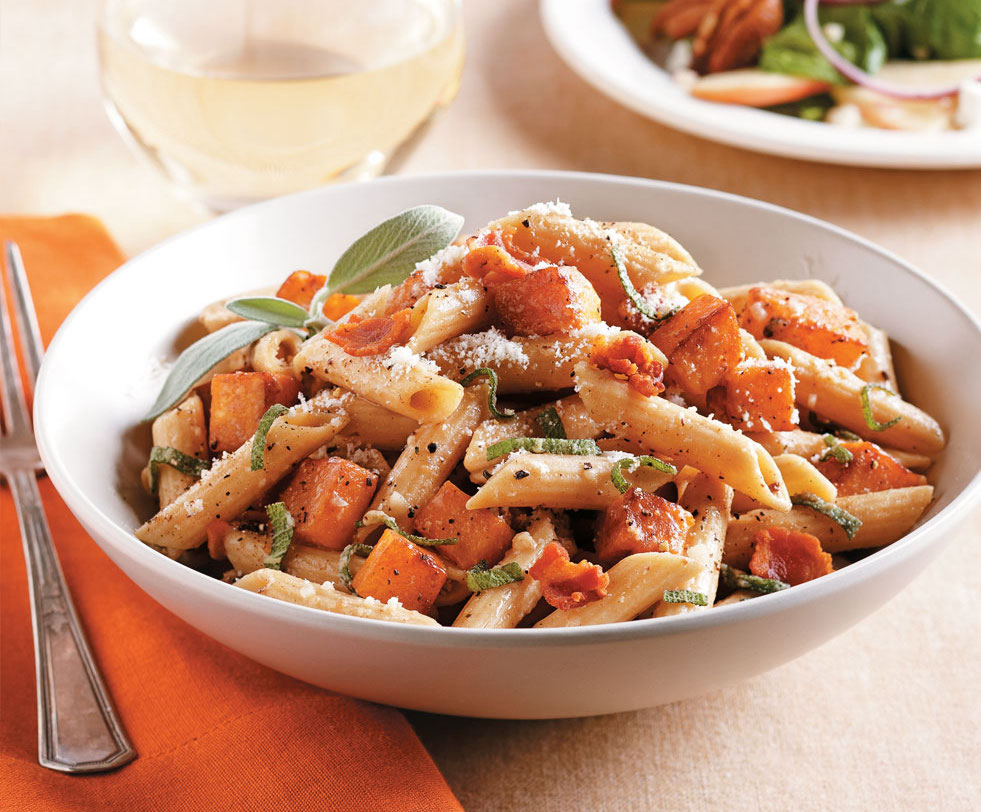 From Cuisine at Home magazine, here is a tasty and full-of-Fall-flavor main dish. You can substitute turkey bacon for regular if you wish. The recipe yields 4 servings.
Ingredients:
1 pound butternut squash, peeled, seeded, cut into ½" cubes (about 2 cups)
2 Tablespoons olive oil
2 Tablespoons balsamic vinegar
Salt and fresh ground pepper 8 oz thick-sliced bacon, diced
8 oz. dry whole wheat penne pasta
2 teaspoons minced garlic
½ cup grated Parmesan
2 Tablespoons thinly sliced fresh sage
Balsamic vinegar
Procedure:
Preheat oven to 450°F.  Toss squash with oil, vinegar, salt and pepper. Transfer to a baking sheet and roast until tender and beginning to caramelize, about 15 minutes (stir squash halfway through roasting); set aside.
Cook pasta in a large pot of boiling salted water according to package directions. Drain pasta, reserving ½-1 cup pasta water; set aside.
Cook bacon in a sauté pan over medium heat until crisp, about 15 minutes. Transfer bacon to a paper towel lined plate; discard drippings. Add garlic to pan, cook 1 minute.
Add roasted squash, pasta and bacon to garlic, tossing to combine and heat through. Add pasta water, ¼ cup at a time, until it loosely coats pasta.
Off heat, toss pasta with Parmesan and sage. Garnish each serving with a drizzle of balsamic vinegar.