Ratatouille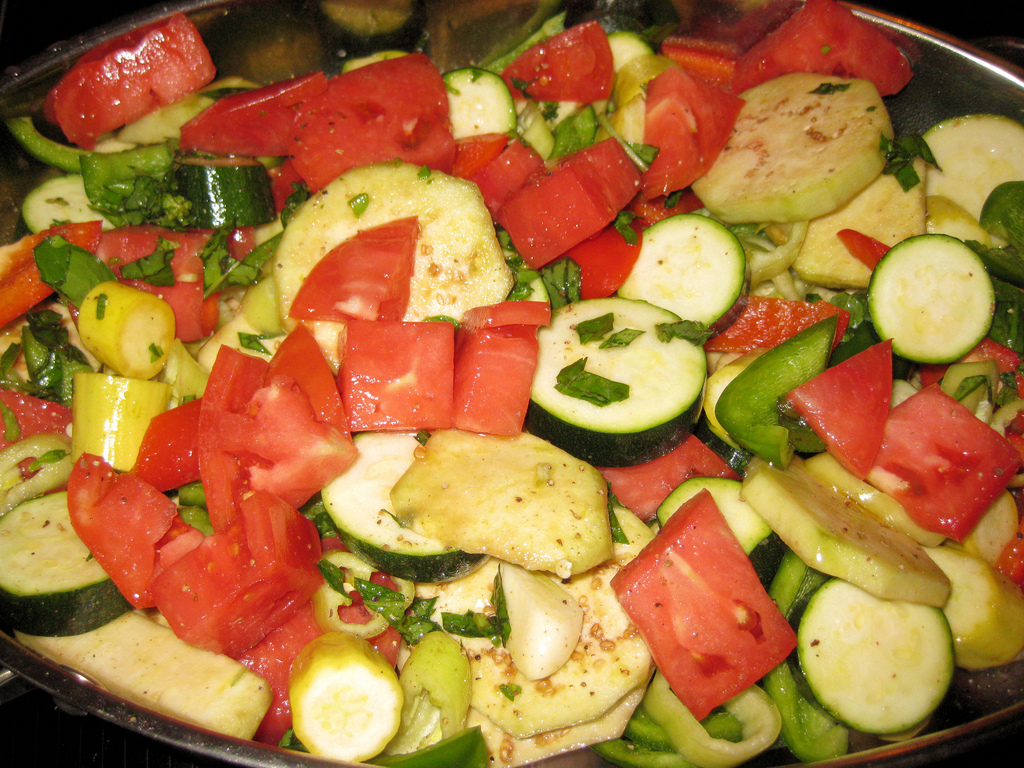 Ratatouille is a traditional French stewed vegetable dish originating in Nice, but popular among the entire Mediterranean coast.  Mid-summer CSA shares will provide all you need for this delicious classic.  Serves 4-6.
Ingredients
3 Tablespoons extra-virgin olive oil
2 cups chopped onions
2 1-pound eggplants, unpeeled, cut into 1-inch cubes
4 garlic cloves, minced
2 zucchini, cut into 1-inch pieces
1 red bell pepper, cut into 1-inch pieces
1 yellow bell pepper, cut into 1-inch pieces
2¾ pounds ripe tomatoes, seeded, coarsely chopped (about 6 cups)
3 fresh thyme sprigs
1 fresh rosemary sprig
1 bay leaf
¼ cup minced fresh basil
Procedure
Heat oil in heavy large pot over medium heat.  Add onions and sauté until tender, about 10 minutes.  Add eggplants and garlic; sauté 5 minutes.  Add zucchini and bell peppers; sauté 5 minutes.
Mix in tomatoes, thyme, rosemary and bay leaf.  Reduce heat to medium-low.  Cover and cook until vegetables are tender and flavors have blended, stirring occasionally, about 40 minutes.
Discard bay leaf; stir in basil.  Season ratatouille generously with salt and pepper.  Transfer to bowl.
(Can be prepared ahead.  Cover and refrigerate.)
Serve cold, warm, or hot.