Spanish Quinoa Stuffed Peppers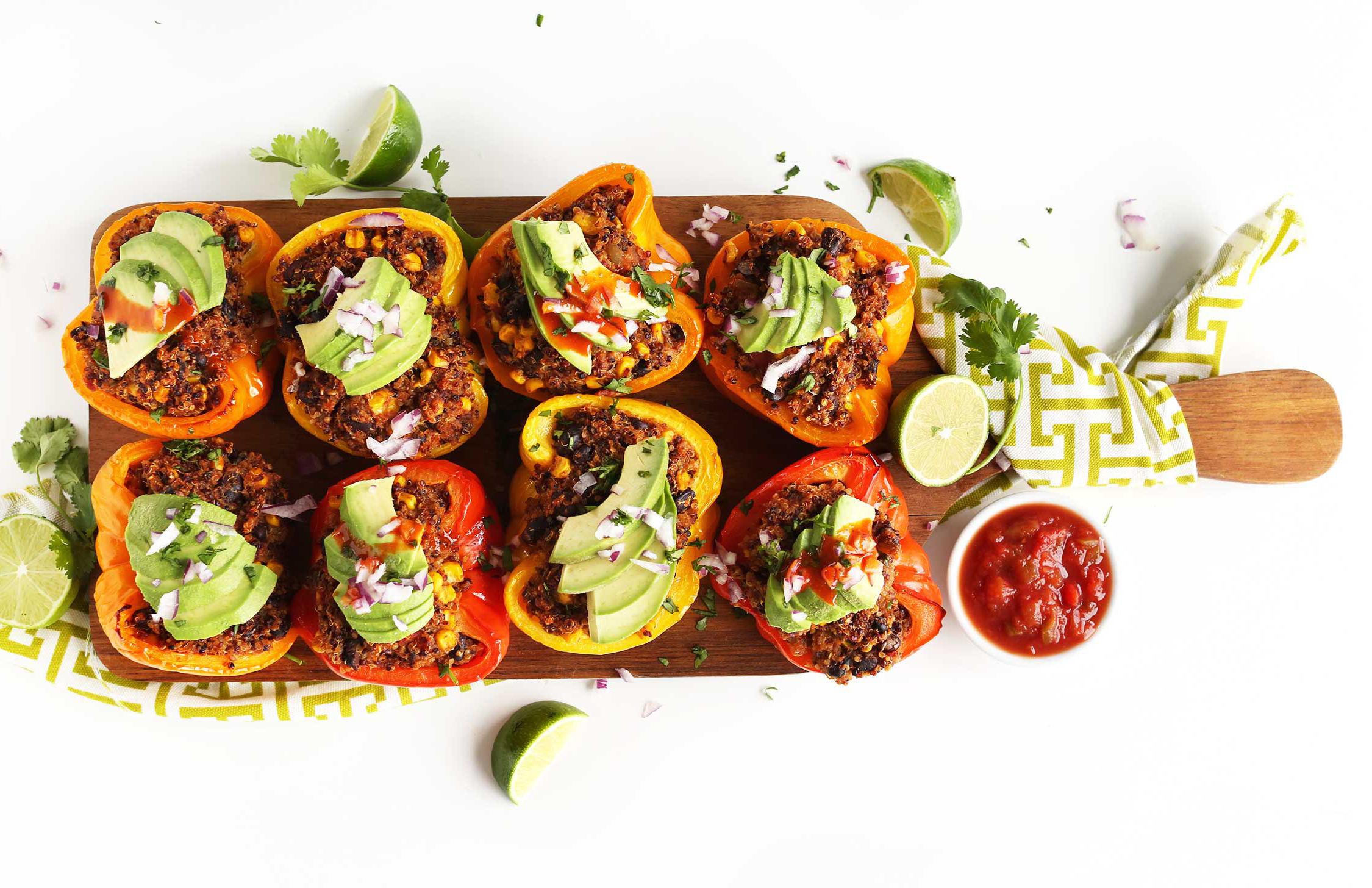 This recipe, courtesy of food blogger minimalistbaker.com, is a vegan and gluten and dairy free twist on stuffed peppers.  These protein packed stuffed peppers are fantastic by themselves, but try them topped with salsa, avocado slices, or hot sauce for even more flavor.  Serves 4.
Ingredients:
1 cup (168 g) quinoa or rice, thoroughly rinsed and drained
scant 2 cups (460 ml) vegetable stock (sub water, but it will be less flavorful)
4 large red, yellow or orange bell peppers, halved, seeds removed
½ cup (120 g) salsa, plus more for serving
1 Tbsp (4 g) nutritional yeast (optional)
2 tsp cumin powder
1½ tsp chili powder
1½ tsp garlic powder
1 15-ounce (425 g) can black beans, drained (if unsalted, add ¼ tsp sea salt)
1 cup (168 g) whole kernel corn, drained
Toppings, optional:
Ripe avocado, sliced
Fresh lime juice
Hot sauce
Cilantro, chopped
Diced red onion
Salsa
Procedure:
Add quinoa and vegetable stock to a saucepan and bring to a boil over high heat. Once boiling, reduce heat, cover, and simmer until all liquid is absorbed and quinoa is fluffy – about 20 minutes.
Preheat oven to 375° F and lightly grease a 9×13 baking dish or rimmed baking sheet.
Brush halved peppers with a neutral, high heat oil, such as grape seed, avocado or refined coconut.
Add cooked quinoa to a large mixing bowl and add remaining ingredients – salsa through corn. Mix to thoroughly combine then taste and adjust seasonings accordingly, adding salt, pepper, or more spices as desired.
Generously stuff halved peppers with quinoa mixture until all peppers are full, then cover the dish with foil.
Bake for 30 minutes covered, then remove foil, increase heat to 400° F, and bake for another 15-20 minutes, or until peppers are soft and slightly golden brown. For softer peppers, bake 5-10 minutes more.
Serve with desired toppings (listed above) or as is.  Best when fresh, though leftovers keep covered in the refrigerator for 2-3 days. Reheat in a 350° oven until warmed through – about 20 minutes.