Beet and Goat Cheese Hummus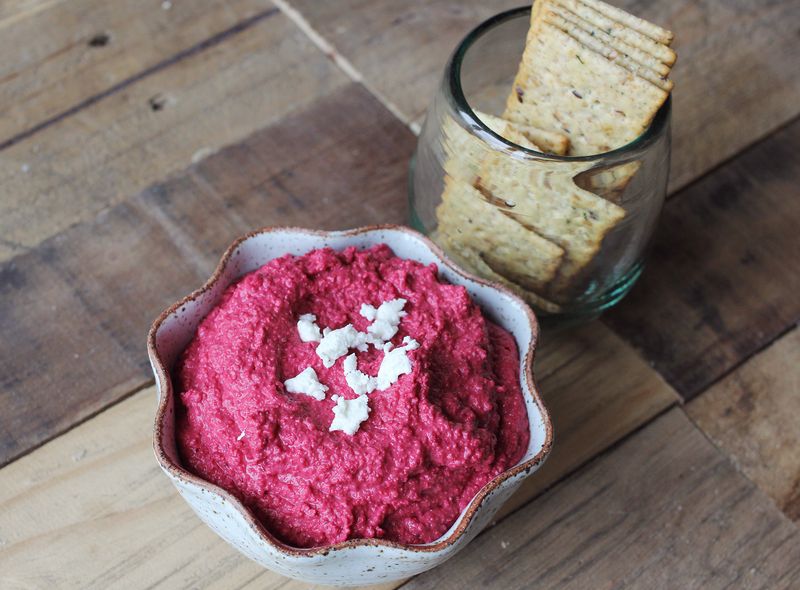 Beets are one of those veggies that are a bit scary, but versatile enough that you can sneak them into almost any other recipe to make things interesting (remember Beet Meatloaf?).  This recipe from abeautifulmess.com does exactly that, combining beets and goat cheese into a hummus recipe to make something completely new and fresh.
Ingredients:
1 large beet
1 can chickpeas, rinsed
2 lemons
¼ cup tahini paste
1 teaspoon salt
4 oz. crumbled goat cheese
¼ cup olive oil
Procedure:
First scrub the beet and chop into large cubes. Bake in aluminum foil or on a baking tray at 400°F until soft enough to pierce with a fork (about 25-30 minutes). Allow the beet to cool.
In a food processor combine the beet (and any juices you were able to reserve), the rinsed chickpeas, juice from two lemons, tahini paste, salt and goat cheese.  Pulse until well blended.  Now while the food processor is running drizzle in the olive oil.  Blend until smooth.
Crumble a little more goat cheese on top for a pretty presentation, and serve.