Gratin of Flageolet Beans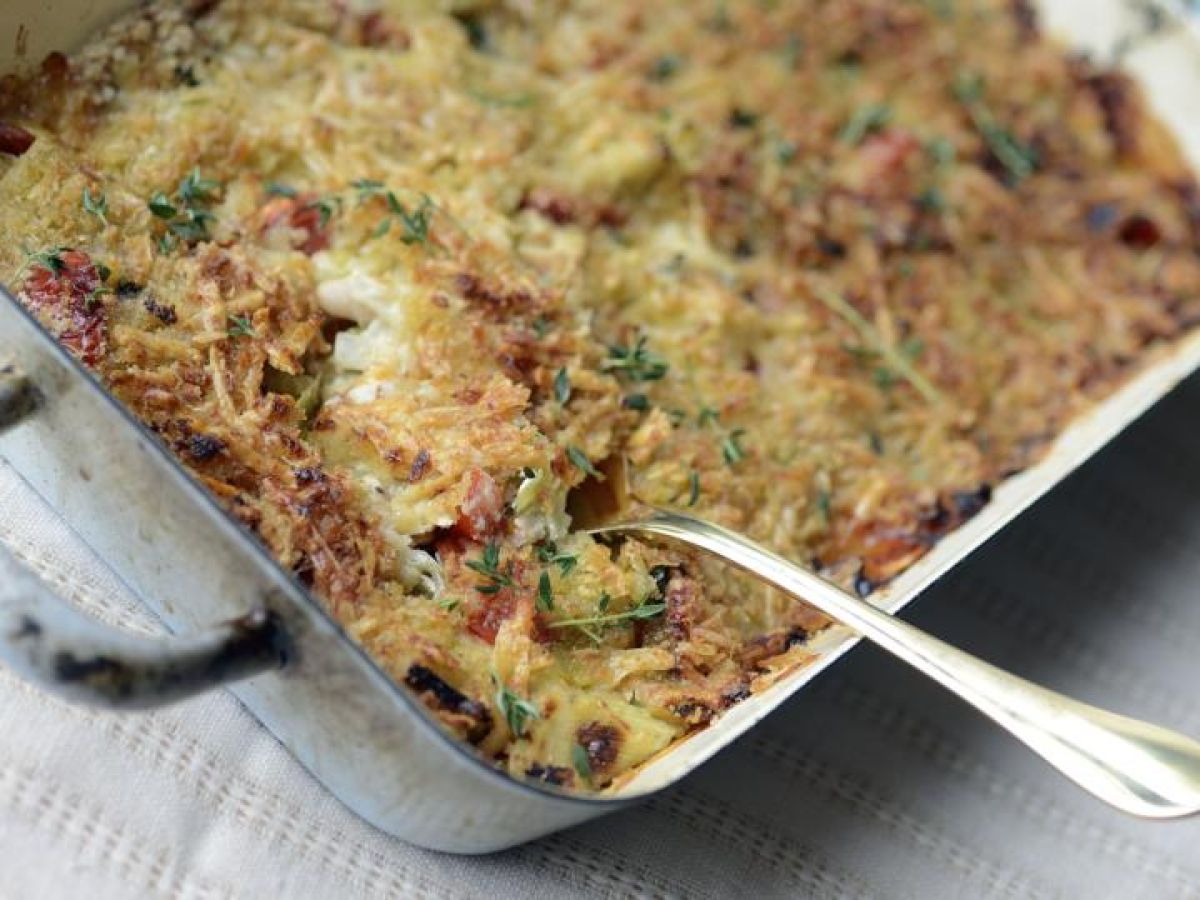 Here's a twist on the classic cassoulet recipe from the New York Times. Serves 8.
Ingredients:
4 Tablespoons olive oil
1 medium carrot, finely diced
1 celery stalk, finely diced
1 medium yellow onion, finely diced
10 cloves garlic, peeled
4 leafy sprigs fresh thyme
8 tomatoes, peeled, seeded, and diced
1 prosciutto hock with rind (see Note)
2 cups flageolet beans
8 cups lamb or beef broth or water
Salt to taste
½ cup chopped fresh parsley
2 cups bread crumbs
6 Tablespoons extra virgin olive oil
4 Tablespoons freshly grated Parmesan cheese
Procedure:
Warm the olive oil in a non-corrodible pot (glass, ceramic, stainless steel or iron). Add the diced carrot, celery, onion, along with the garlic and cook for 5 minutes.
Add the thyme, tomatoes, prosciutto hock, beans, and broth or water. Salt to taste. Cover and simmer for 1 hour, adding water if the bean mixture becomes too thick. Remove the cover, raise the heat slightly and cook for another 30 minutes, reducing the liquid until it is the same level as the beans. When stirred, the beans should have the consistency of a thick sauce.
Preheat the oven to 350 degrees. Remove the prosciutto hock and thyme sprigs from the pot. Remove the rind from the prosciutto, chop the ham into coarse pieces and add them to the beans. Stir in about half the parsley.
Pour the beans into a baking dish. Mix the bread crumbs with the remaining parsley and the extra virgin olive oil and Parmesan cheese and spread this over the beans in an even layer. Bake for 40 minutes or until the edges bubble, and the top is evenly browned.
Tip:  If a prosciutto hock is not available, do not substitute a smoked ham hock, as it will give the beans a powerful smoky flavor. Instead use meaty pork bones, such as spare ribs or chops.