Yacon Kale Citrus Salad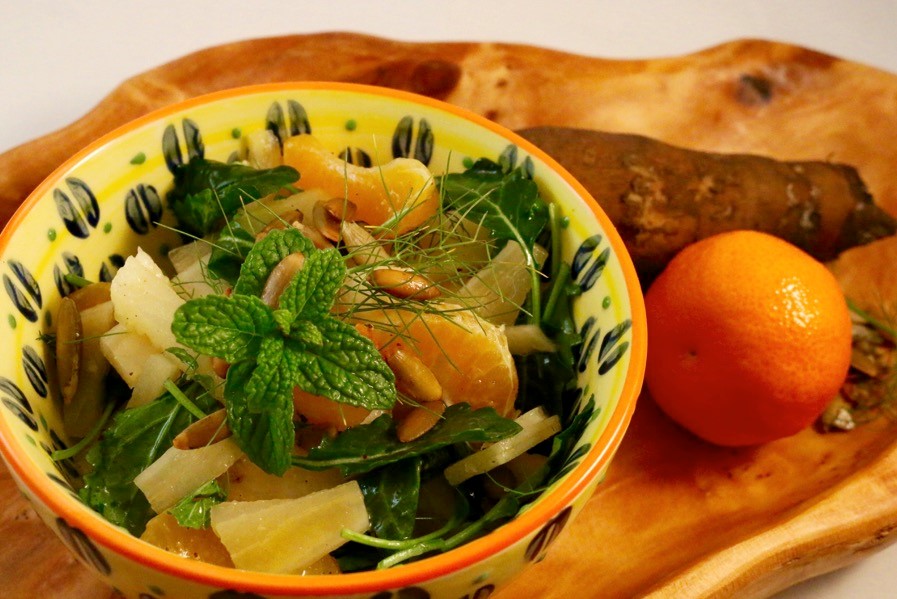 Yacon is commonly enjoyed raw.  It's really easy to prepare yacon, just peel off the brown skin and shred it or chop it into dishes, such as salads and slaws.  Here's a citrus salad found on Sharon Palmer's plant-powered dietician blog. The yacon gives this salad a slightly sweet, juicy crunch.
Ingredients:
2 yacons, peeled, sliced into matchstick strips
1 lemon, juiced
1 Tablespoon extra virgin olive oil
1 cup baby kale leaves
3 Mandarin oranges, segmented (may substitute with 1 cup canned, drained)
3 Tablespoons chopped fresh mint
2 Tablespoons chopped fresh fennel fronds
¼ cup roasted pumpkin seeds
1 clove garlic, minced
¼ teaspoon cumin
¼ teaspoon black pepper
Sea salt (optional)
Procedure:
Place sliced yacon in a medium salad bowl.
Immediately drizzle with lemon juice and olive oil and toss together to prevent from browning.
Add kale, oranges, mint, fennel fronds, pumpkin seeds, garlic, cumin, black pepper and sea salt (optional). Toss together well.
Chill until serving time.