Yacon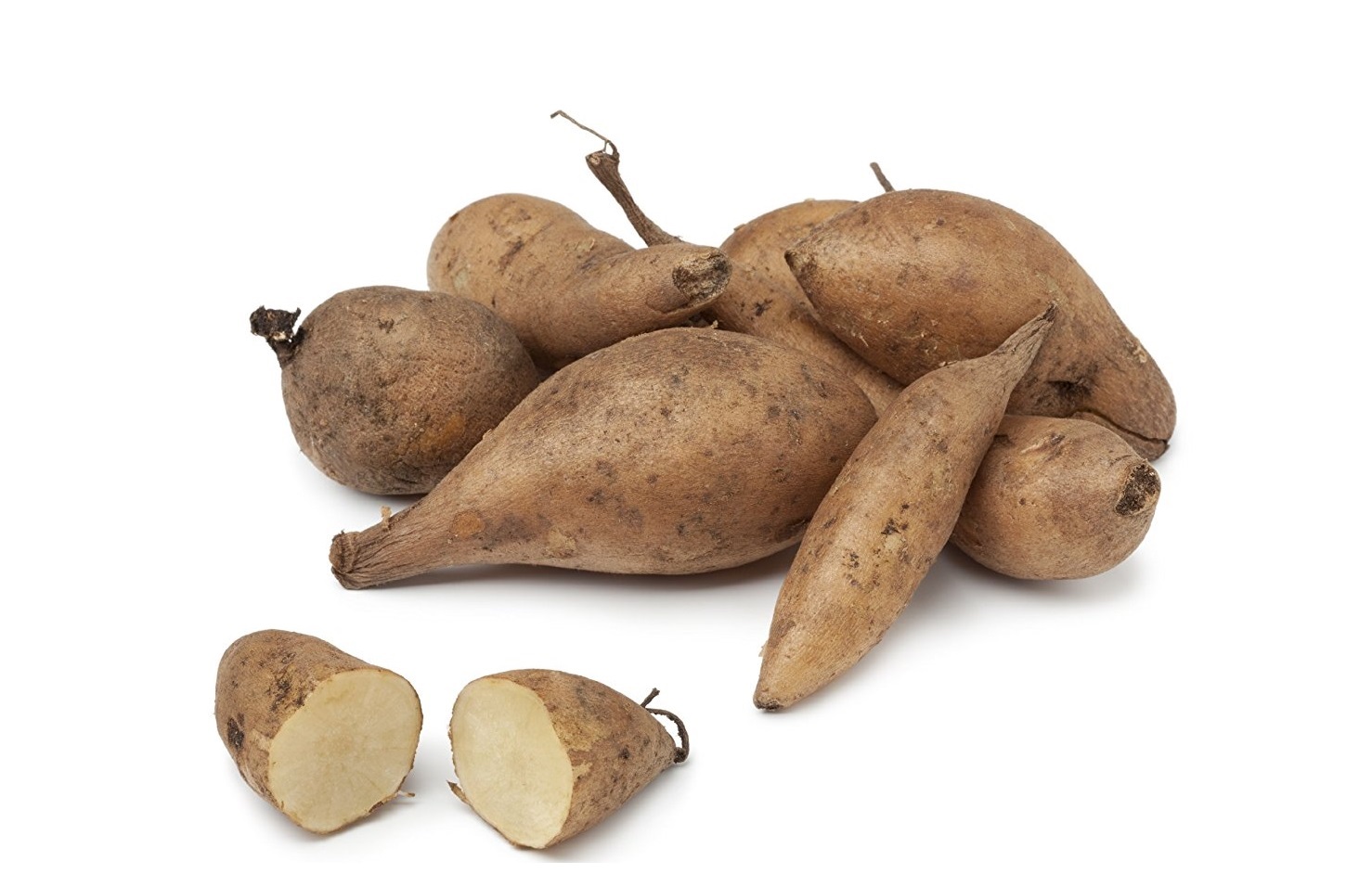 Easy to grow and store, high-yielding, supernutritious and crunchy like an apple, yacon root (pronounced ya-kon) is one of the many "new" vegetables coming to us from South America.  In reality, this fruitlike vegetable has been cultivated throughout the Andes for more than a millennium.  South Americans eat it as a fruit; they also use the huge leaves to wrap foods during cooking, in the same way cabbage leaves are used in Germany, grape leaves in the Mideast and banana leaves in the tropics.  Only recently – thanks to some adventurous green thumbs – have North Americans begun to see yacon in produce markets.
In addition to its distinctive flavor – a satisfyingly sweet cross between celery and Granny Smith apples – yacon is noted for its high fiber and low calorie content.  The tubers and leaves contain high levels of inulin, a form of sugar humans cannot easily break down, making it low in calories.  Inulin also aids digestion and promotes the growth of beneficial bacteria in the intestine, while inhibiting toxic bacteria.  Recent research also has found that yacon tubers and leaves are a good source of antioxidants.  Yacon is an ideal food for diabetics and weight watchers, but it will make a delicious addition to anyone's diet.  Plus, the tubers only get sweeter in storage.
In South America, yacon tubers can have yellow, orange, red, pink and even purple flesh, all with distinct flavors.  Unfortunately, only one or two varieties of yacon are available in the United States, and they are white-flesh varieties.  All varieties have a crunchy texture, and the water content is high enough that the tubers can be crushed to make juice.
Yacon is delicious eaten fresh with a little sugar or honey and a bit of lemon juice sprinkled over it.  (Yacon recipes often contain citrus, because acidity prevents the discoloration that results once the pared tubers are exposed to air.)  Many South Americans put yacon in a fruit salad called salpicón, because the tubers add a crunchy texture to the mix.  Yacon also can be stir-fried, roasted, baked, or made into pies and healthy chips.  Teas made from the leaves can reduce blood sugar by increasing the amount of insulin circulating in the blood stream.  Yacon syrups or powders also can be used as low-calorie sweeteners, and are increasingly available at natural food stores.