Farm News- September 2, 2010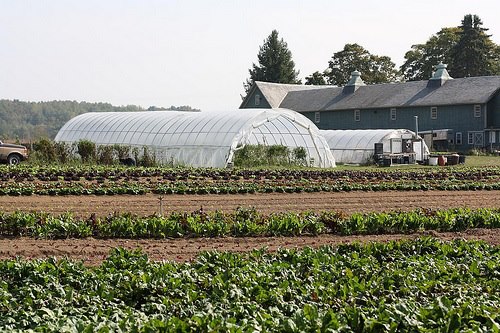 Hi Folks,
As predicted we received some much needed rain this past week, a total of a little more than an inch, that fell mostly as drizzle and light rain over four days. Such a protracted period of precipitation makes the harvest more challenging, especially for the potatoes, which had to be dug by hand, without the help of the potato digging machine. I'm not complaining though, after such a dry summer we'll take whatever we can get, and be grateful for it. Now it seems we're engulfed in another heat wave, but it should break by Friday and we get another chance of rain as the high pressure moves in.
We are still picking melons and watermelons, although the peak production is past. What we have at the moment are mostly smaller watermelons.
We were unable to harvest many edamame soybeans last week, so some groups did not get any as promised. If you were one of those members who did not get soybeans, you will this week. The same is true for eggplant.
We are bringing in loads of tomatillos at the moment, so start searching for recipes. These green (sometimes purple) paper husk covered members of the tomato family are the main ingredient in salsa verde, the Mexican condiment. They are not picante as many people assume, the heat coming from the chili peppers which are added to the salsa. Salsa verde is very simple to make just boil them until soft, pour off the water, and put them in a blender with onion, hot peppers (or not) and salt to taste.
The share for this week will be:
tomatoes, peppers, eggplant, beets, green beans or edamame, garlic, sweet corn (conventional), melon or watermelon, choice of cherry tomatoes or ground cherries, tomatillos, red onions, and choice of an herb.
Enjoy!
Farmer John