Cherry Tomato and Ground Cherry Salsa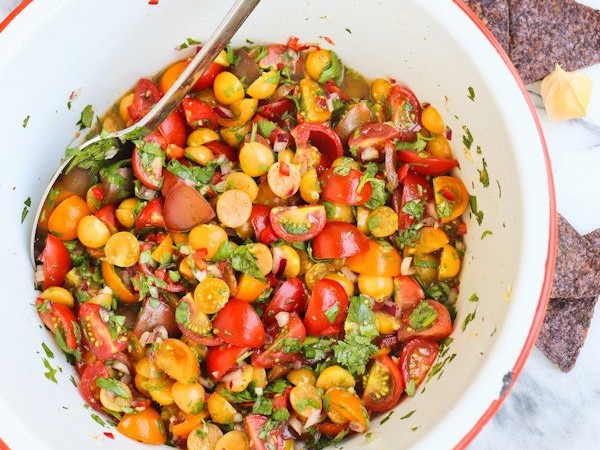 Ground cherries are one of our CSA's favorite summer treats – you won't find them in grocery stores!  Their natural sweetness can be used to make a delicious and unique salsa, like this recipe found on A Farm Girl's Dabbles food blog.

Ingredients:
2 cups quartered cherry tomatoes
1 cup halved ground cherries
⅓ cup finely chopped red onion
1 garlic clove, minced
2 Tablespoons minced red chili
½ cup finely chopped fresh cilantro
3 Tablespoons fresh lime juice
1 Tablespoon extra virgin olive oil
¼ teaspoon cumin
⅛ teaspoon kosher salt
⅛ teaspoon freshly ground black pepper
Procedure:
1.    In a medium bowl, fold together cherry tomatoes, ground cherries, onion, garlic, chili, and cilantro.
2.    Drizzle the lime juice and olive oil over the top, folding a couple times to incorporate. Then sprinkle with cumin, salt, and pepper.
3.    Fold again to bring it all together.
4.    Enjoy immediately or refrigerate for an hour or two before serving. Serve with tortilla chips, or over grilled fish or chicken.