Fresh Arugula Pesto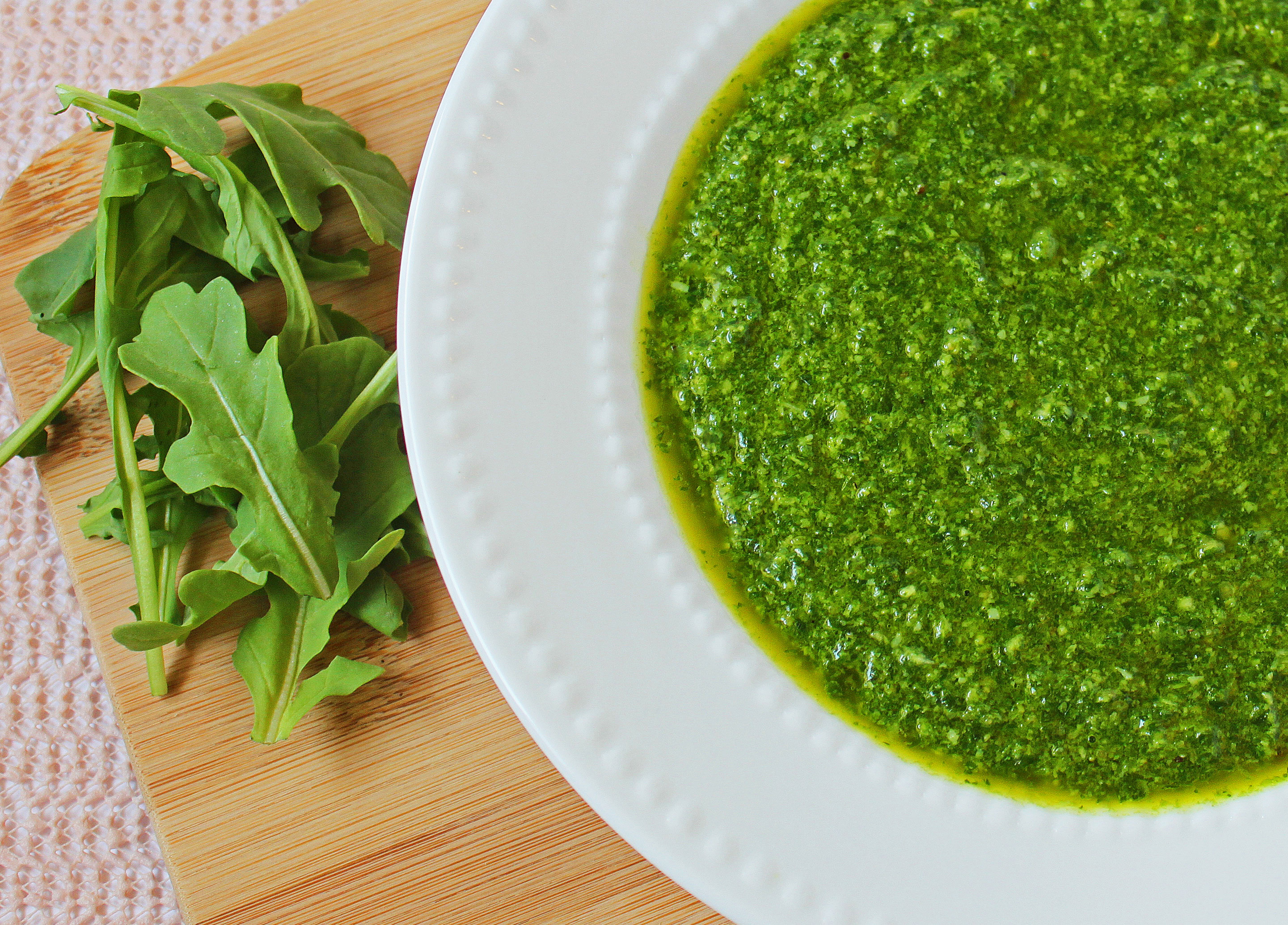 This recipe, found on simplyfreshcooking.com is a great way to use arugula.  The great thing about pesto is that it's so versatile.  You can literally use any kind of leafy green in place of the arugula – even spinach, mustard greens, swiss chard.
The greens aren't the only thing you can substitute.  Choose a different nut – like almonds or walnuts.  Just remember to toast them first.  This allows their natural oils to be released and their hidden aromas to come out, which means more flavor for your pesto.  Yields about 1 cup.
Ingredients:
2 cups fresh arugula, packed
¼ cup fresh basil leaves, packed (optional)
3 cloves garlic
3 Tbsp pine nuts, toasted *
¼ cup grated Parmesan cheese
½ cup extra-virgin olive oil
Salt and Pepper to taste
Procedure:
Brown garlic cloves with their peels on in a skillet over medium high heat until the garlic is lightly browned in places, about 10 minutes. Remove the garlic from the pan, cool, and remove the skins.
Toast pine nuts until aromatic and lightly browned; about 2 -3 minutes.  *If using a different type of nut other than pine nuts, it will be better to toast them in the oven.  Preheat oven to 350° F, place nuts on a baking sheet and bake for 10-15 minutes, until golden brown.  Different nuts have different cooking times, so keep an eye on them.
In a food processor fitted with a metal blade, add garlic and process on high for about 3 seconds.  Add pine nuts, parmesan cheese, mixed greens, basil, and blend while slowly adding the olive oil, stopping once to scrape down sides of container.
Salt and pepper to taste.  Refrigerate (up to 1 week) or freeze until ready to use.
What to do with fresh pesto:  Drizzle on top of a creamy soup or use it in the base of a soup.  Spread on sandwiches.  Drizzle over cooked steak, poultry, fish, or eggs.  Use it as a marinade for any meat before grilling.  Mix it with roasted veggies or potatoes before or after baking.  Use as a salad dressing, mix with cooked pasta, or use it as pizza sauce.