Farro Salad with Grilled Eggplant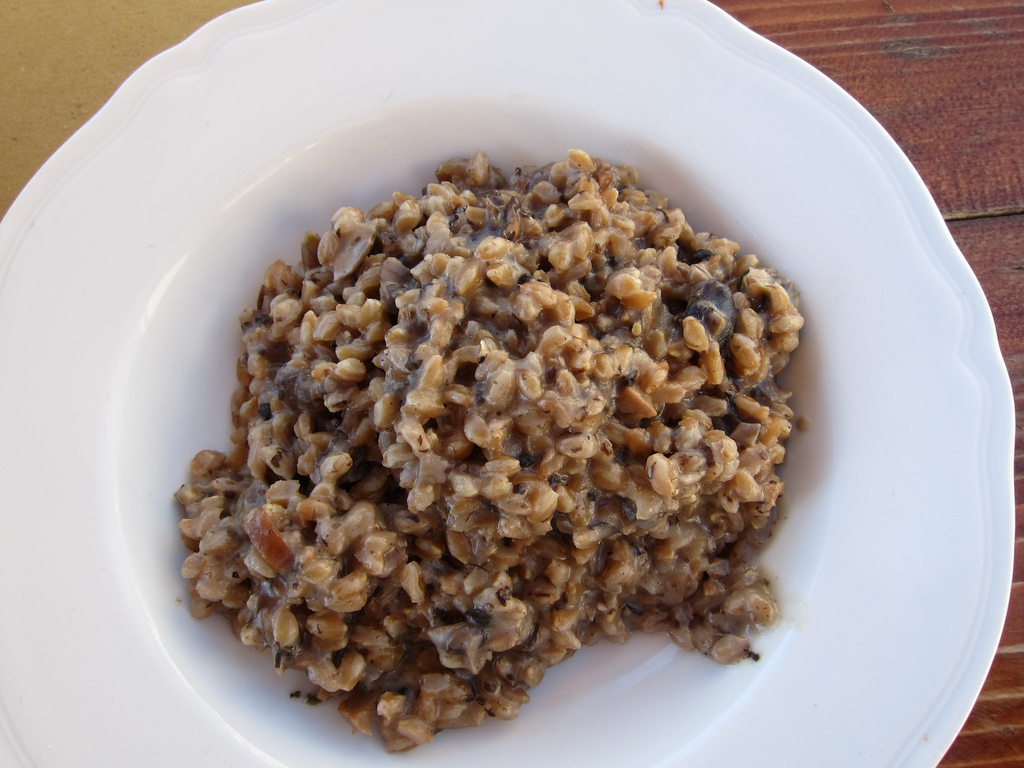 Hailing from Bobby Flay and the Food Network, I made this salad with weekend with those long, skinny eggplant. To die for!! You will notice there is no Southwest "heat" in this one — most unusual for Bobby. As presented, the recipe yielded way more than 4 servings, I'd say at least 8, but it keeps well in the fridge and we have lunch for a few days.
Ingredients:
1 ½ cup farro
3 Japanese (baby) eggplants, halved (I used just one long eggplant)
1 small red onion, peeled, halved, and thickly sliced
Olive oil, for brushing
Salt and freshly ground black pepper
½ pint grape tomatoes, washed and sliced in half
¼ cup chopped fresh dill, plus more for garnish sherry vinaigrette, recipe follows
For the Vinaigrette:
1 small shallot, finely chopped
¼ cup sherry vinegar or balsamic vinegar
2 teaspoons Dijon mustard
¼ teaspoon kosher salt
¼ teaspoon freshly ground black pepper
¼ cup chopped fresh dill
½ cup extra virgin olive oil
Whisk together the shallot, vinegar, mustard, salt, pepper, and dill in a small bowl. Slowly whisk in the oil until emulsified.
Procedure:
Cook farro in a large pot of boiling salted water until just tender, about 15 minutes. Drain well and place in a large bowl.
Heat grill to high. While the farro is cooking, brush the eggplants and onion slices with oil and season with salt and pepper. Grill for 3 to 4 minutes on each side or until just cooked through. Remove from the grill and cut into 1-inch dice. Add the eggplant and onions to the farro along with the tomatoes and dill.
Pour sherry vinaigrette over the farro mixture and stir to combine. Garnish with additional dill. Best served at room temperature.