Sautéed Baby Squash with Basil and Feta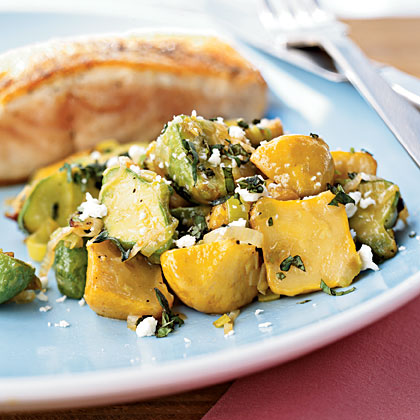 This recipe is courtesy of Cooking Light.  It calls for pattypan squash, but you can substitute any of your other summer squashes, depending on what you have on hand.
Ingredients
1 Tablespoon olive oil
4 cups baby pattypan squash, halved or quartered (about 18 ounces)
2 cups sliced leek (about 2)
½ teaspoon salt
⅛ teaspoon freshly ground black pepper
3 Tablespoons crumbled reduced-fat feta cheese
2 Tablespoons finely chopped fresh basil
Procedure:
Heat a large nonstick skillet over medium-high heat. Add oil to pan, swirling to coat; heat 20 seconds.
Add squash and leek to pan; sauté 5 minutes or until tender, stirring frequently.
Stir in salt and pepper.
Transfer squash mixture to a serving platter. Sprinkle with cheese and basil.