Gazpacho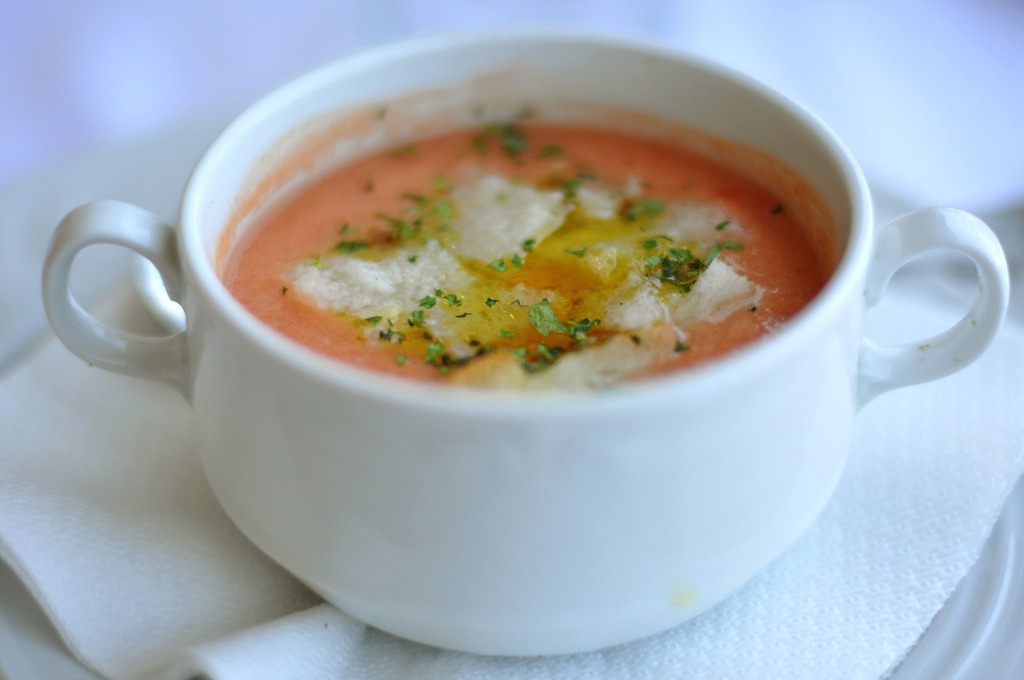 At some point this summer, you will look in your crisper and realize you have all the ingredients for the perfect summer meal: Gazpacho. This recipe from the Joy of Cooking is easy to make and can be adapted depending on what vegetables you have available. Serve for lunch or add a side of thick crusty bread to make a light dinner.
Ingredients:
1 medium cucumber, peeled, seeded, and coarsely chopped
1 medium green bell pepper, coarsely chopped
1 small onion, coarsely chopped**
⅓ cup packed fresh parsley leaves
2½ pounds ripe tomatoes, peeled, seeded, and coarsely chopped
1 cup tomato juice
¼ cup red wine vinegar
3 Tablespoons olive oil
2 cloves garlic, minced**
1 fresh jalapeño pepper, seeded, minced, or a dash of hot pepper sauce (optional)
** When these ingredients are fresh and raw they can add quite a punch! You can add more or less to taste.
Procedure:
Place the cucumber and sweet bell pepper in the food processor.  Finely chop, but do not puree.  Remove to a large bowl.
Place the onion and parsley in the food processor and finely chop. Add to the bowl.
Finely chop the tomatoes in the processor and remove to the bowl.
Add the remaining ingredients to the bowl, stir well and refrigerate at least two hours.