Fennel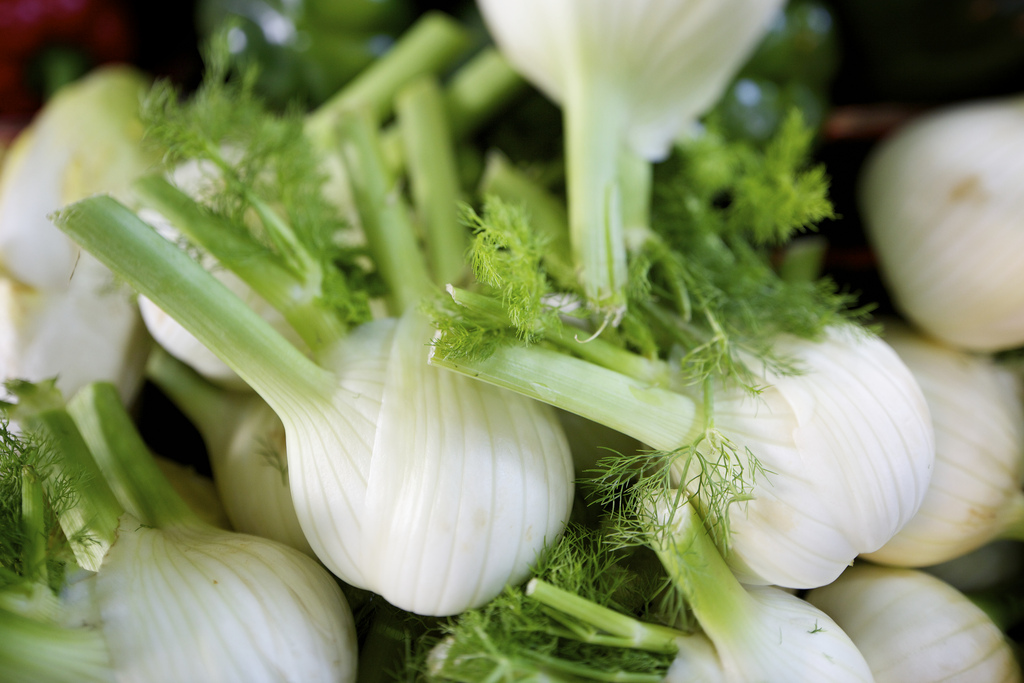 Fennel, also known as sweet fennel or finocchio, originated in the Mediterranean and is popular in Italian and Scandinavian cooking. Closely related to parsley, carrots, dill and coriander, this aromatic vegetable is the swollen, immature stem of a large, feathery bush. The young stems of the plant overlap at the base to form a bulb with white-to-pale-green ribbed layers. Although the stalks are similar to celery both in their appearance and in their crunchy texture, all parts of the plant (bulb, stalks, and fronds) have a pleasantly sweet anise, or licorice-like flavor, and are edible.
Fennel can be served raw, shaved thinly as a salad or in slaws, or cut into spears for dipping. Grilling or roasting until the layers caramelize highlights its sweetness. Fennel works well with citrus flavors and nicely compliments seafood, such as scallops and salmon.  You can use the tops to add flavor to fish, pork, or lamb dishes, while the stalks can be used like celery.
To store, keep fennel bulbs with the stalks and fronds intact, in a plastic bag in the fridge for about 5 days; it will lose its flavor the longer it sits. To trim fennel, cut away the green stems and fronds, which can be used for garnish or in soups and stews. Remove and discard the outer layer of the bulb, trim any discolored areas, cut the bulb in half lengthwise, and remove the base of the core if it is thick and solid. Rinse well to remove any grit between them. Fennel is a good source of dietary fiber, vitamins A and C, potassium, calcium, and iron.
Fennel has been used for medicinal purposes for thousands of years. Its history includes use as an eye wash, and is used today as a tea, to relieve gas pains and stomach cramping. It had a place in Chinese and Hindu culture as a snake bite remedy.