Zuccanoes (aka Stuffed Zucchini)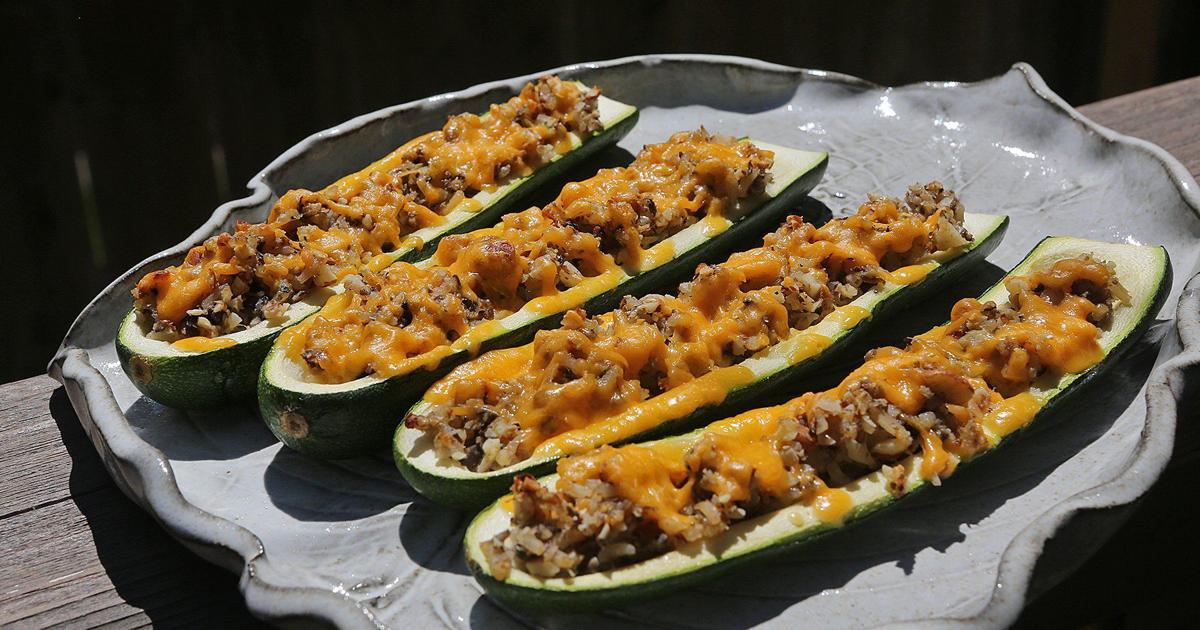 Zuccanoes (stuffed zucchini) are an ultra filling vegetarian dinner with almonds, rice, savory veggies, and fresh herbs.  This recipe is from the original Moosewood Cookbook and can also be found on the Kitschen Cat food blog. Serves 4-6.
Ingredients:
4 medium sized zucchini
1 Tablespoon olive oil
1½ cups minced onion
1 teaspoon salt
½ lb mushrooms, minced
1½ cups cooked rice (white or brown)
1½ cups finely ground almonds (or a mixture of almonds and walnuts)
3 Tablespoons lemon juice
Black pepper and cayenne
Small handful of freshly minced herbs (your choice – parsley, basil, thyme, dill, chives)
1 cup grated Swiss cheese
Procedure:
Cut the zucchini lengthwise then use a spoon to scoop out the insides – leaving about 1/4 inch of a shell in your zucchini canoe.
Place the canoes in a 9×13 inch baking dish greased with cooking spray.
Finely chop the zucchini innards that you scraped out and set aside.
Heat olive oil in a medium skillet and add onion and salt. Sauté until onion is soft, about 6-8 minutes.
Add zucchini and minced mushrooms – sauté for another 8-10 minutes.
Add garlic, stir, and sauté for 1 minute.
Remove the skillet from the heat and add cooked rice and ground almonds to the veggies.
Add lemon juice, black pepper, cayenne, and fresh herbs. Stir.
Preheat oven to 350 degrees and fill the zucchini canoes with the combined mixture.
Sprinkle with cheese and bake for 30-40 minutes and cheese is melted and browned on the tops.
Serve warm!