Summer Vegetable Bread Pudding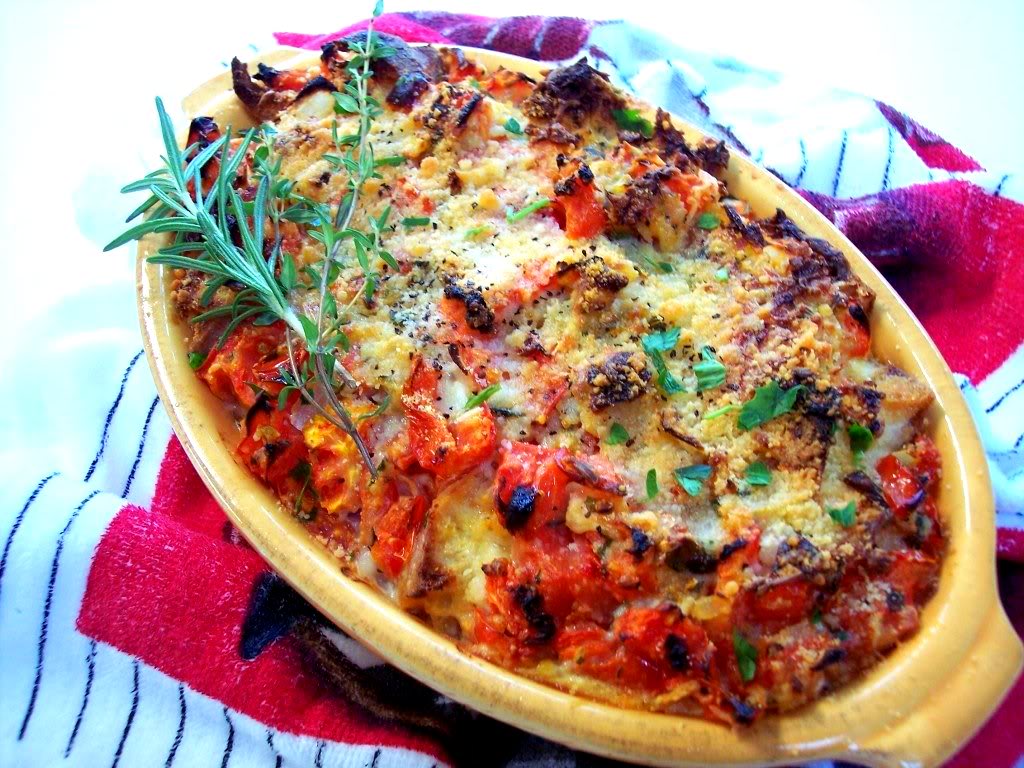 Bread pudding isn't just for dessert – you can make a savory bread pudding with your summer veggie and egg shares.  Feel free to substitute other ingredients, herbs, or cheeses, depending on what you have available.  Works great as a brunch dish that serves 8-12.
Ingredients:
1 large tomato, diced
1 medium zucchini or yellow summer squash, quartered and sliced
2 teaspoons salt
5 large eggs
3½ cups milk
12 cups dried bread cubes (or about 1¼ to 1½ baguette, diced)
2 Tablespoons butter
2 Tablespoons Extra Virgin Olive Oil
2 celery stalks, thinly sliced
1 leek, white and tender green parts only, trimmed and thinly sliced
1 red bell pepper, diced
1 carrot, grated
½ pound Fontina, Cheddar or Swiss cheese, grated (about 2 cups packed)
2 sprigs fresh sage, finely chopped
2 sprigs fresh thyme, finely chopped
½ teaspoon grated lemon zest
Freshly ground black pepper
Procedure:
Combine the zucchini and tomato with the salt in a colander and set aside to drain for at least 30 minutes.
Preheat the oven to 350°.  Lightly grease a 9 or 10 inch spring form pan (or lasagna pan) with butter.
In a large bowl, whisk together the eggs and milk.  Add the bread cubes and let soak while you cook the veggies.
Melt the butter with the oil in a large skillet over medium heat.  Add the celery, leek, and bell pepper, then sauté until softened, about 3 minutes.  Add the zucchini, tomato, and carrot, then sauté until all the veggies are tender, about 3 minutes longer.
Add the veggies, cheese, sage, thyme, and lemon zest to the bread cube mixture and gently toss.  Season generously with pepper, and mix well.
Pack the mixture in the prepared pan.  Place the pan on a baking sheet and bake for 55 to 65 minutes, until the top is crusty brown and a knife inserted in the middle comes out clean.  If the pudding begins to look dark before it's finished, cover with foil.
Let cool before serving.  If you want to serve the pudding in firm slices, cool overnight in the fridge and reheat or serve at room temperature.