Pasta with Escarole, Beans, and Sausage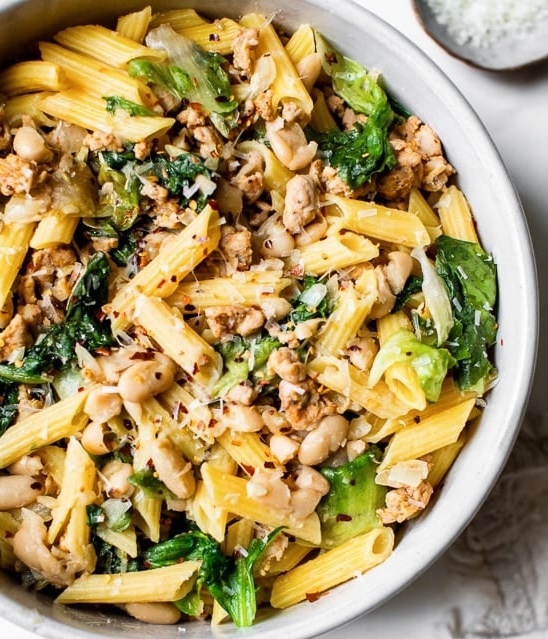 Escarole and beans with sausage is a typical dish in Italian cuisine.  Here's a recipe found on skinnytaste.com that is quick to make, and a real crowd-pleaser!  You can substitute different kinds of greens for escarole, or other kinds of sausage, and it will be delicious.  Serves 6.
Ingredients:
10 oz pasta, wheat or gluten-free pasta
1 teaspoon olive oil
1 medium onion, chopped
4 cloves garlic, chopped
12 oz uncooked Italian chicken sausage, removed from casing
½ cup fat free, low sodium chicken broth
1 cup cannellini beans, drained and rinsed
1 medium head, 7-8 cups escarole rinsed and torn into bite sized pieces
¼ cup grated Parmesan or Romano cheese
¼ teaspoon crushed red pepper, or to taste (optional)
salt and fresh pepper to taste
Procedure:
Rinse escarole and tear into bite sized pieces.
Cook pasta according to package directions for al dente in a large pot of salted water. Reserve ½ cup water before draining.
While pasta water boils, heat a large non-stick skillet on medium heat.
Add olive oil; when hot add onions, garlic, salt and pepper until soft, about 4-5 minutes.
Add sausage, breaking up with a wooden spoon and cook until golden, about 6 to 8 minutes. Set aside in a dish.
Add chicken broth and beans to the skillet.
Add the escarole; stir and cook about 4 minutes or until wilted.
Gently stir in sausage, pasta, red pepper flakes, ½ cup of the reserved water or more if needed and grated Parmesan. Adjust salt and pepper if needed and toss well; transfer to a large serving bowl. Enjoy with some extra cheese on the side.