Farm News – August 21, 2014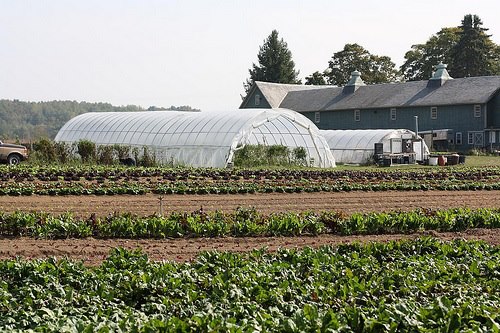 Hello Everyone, We received about 1.3 inches of rain from last week's storms that were predicted to bring 2 to 4 inches. While I was glad not to get 4 inches, I was hoping for a little more. After 3 weeks without rain, the ground quickly soaked up the moisture and is still on the dry side. The precipitation was helpful for germinating seeds and watering in some of our transplanted crops, giving us a break from moving the sprinklers around the field.
We are probably at the height of our tomato production at the moment, so expect large quantities of the fruit this week. It's uncertain how long we can sustain this level of production as there is quite a bit of disease in our early plantings of hybrids. There are some later planting which look okay so far, as well as the plants in the high tunnel greenhouse, so I expect to have tomatoes in the shares for at least another 6 weeks. We have been sending a few heirloom tomatoes along with the regular types for the past couple of weeks. We have Brandy wine, bi-colors like Striped German and Pineapple, and my favorite Cherokee Purple, which is dark and has green shoulders. We also have a variety call Aunt Ruby's German Green which is green with just a slight yellow blush on the bottom when ripe. I think it has tremendous flavor, much better than the more widely grown Green Zebra. Heirlooms have a short shelf life so judge their ripeness by softness; don't wait for green shoulder to color up or Aunt Ruby's to turn red!
Gorgeous, sweet and delicious melons continue to ripen prolifically. There are more cantaloupes now and soon more watermelons. Beans are becoming more abundant and soon we will have the delicious heirloom Rattlesnake beans. Some groups may receive a variety called Dragon Langerie, a wax bean with purple streaking. These are string beans not shell beans, so don't be fooled. It's been 2 weeks since you've had cabbage, so you know what that means- get ready to make some cole slaw!
The share for this week will be Tomatoes, lettuce, cucumbers, summer squash, string beans, Yukon Gold potatoes, peppers, red onions, melon or watermelon, bok choy, savoy cabbage, and choice of Goldenberries or cherry tomatoes. We are in a rotation with eggplant, so if you did not get any last week you will receive some this week or next.
Enjoy!     Farmer John