Green Bean, Corn, and Carrot Salad with Mustard Vinaigrette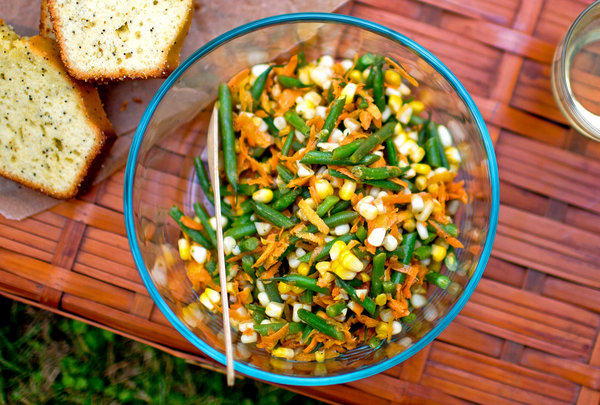 Here is a beautiful salad from Melissa Clark of the New York Times that's perfect for a picnic.  Haricots verts, by the way, are skinny green beans, but regular ones will work just as well.  All of the ingredients can be found in our late summer CSA shares!  Serves 6-8.
Ingredients:
½ teaspoon Kosher salt, more as needed
2 Tablespoons red wine vinegar
2 garlic cloves, finely chopped
1 Tablespoon Dijon mustard
1 cup extra virgin olive oil
¼ cup minced fresh chives
Black pepper, as needed
1 pound haricots verts, or green beans, trimmed
2⅔ cup cooked fresh corn kernels (from about 4 cobs)
½ pound carrot, peeled and coarsely grated (about 2 cups)
Procedure:
In a small bowl, whisk together salt, vinegar, garlic, and mustard. Whisking constantly, slowly whisk in oil until incorporated. Whisk in chives and pepper.
Bring a pot of salted water to a boil. Drop in the green beans and cook until just tender, 2-3 minutes. Drain, cool, and chop into bite-size pieces.
In a large bowl, toss together the beans, corn and carrots. Toss in dressing and season with salt and pepper.